Margaret Whiting
DREAM: THE LOST RECORDINGS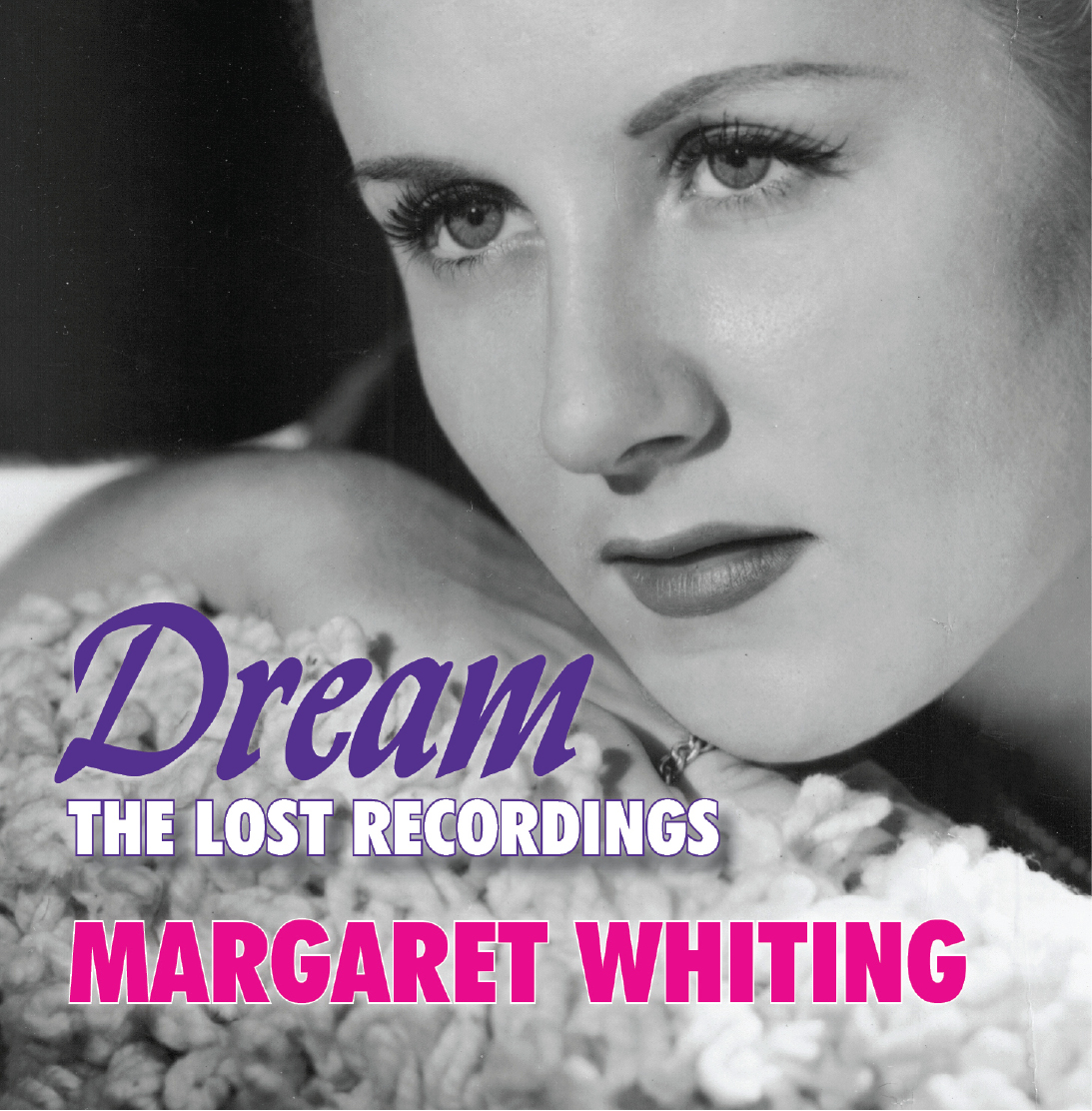 Admirers of gold-record recording artist, Margaret Whiting, are sure to cherish this collection of lost recordings from one of the most popular interpreters of the Great American Songbook.
Taken from Margaret's transcription recordings for the syndicated BARRY WOOD SHOW, these songs are being made available for the very first time and more than that, each song is one Margaret never released commercially.
CD #1
1. Honey (Seymour Simons – Haven Gillespie – Richard Whiting)
2. Skylark (Johnny Mercer – Hoagy Carmichael)
3. Taking A Chance On Love (John Latouche – Ted Fetter – Vernon Duke)
4. Confessin' (Al J. Neilburg – Doc Daugherty – Ellis Reynolds)
5. I'm Gettin' Sentimental Over You (Ned Washington – George Bassman)
6. It's Got To Be Love (Lorenz Hart - Richard Rodgers)
7. The Man I Love (Ira Gershwin – George Gershwin)
8. You'd Be So Nice To Come Home To (Cole Porter)
9. Soon (Ira Gershwin – George Gershwin)
10. Easy to Love (Cole Porter)
11. Maybe (Ira Gershwin – George Gershwin)
12. S'posin (Andy Razaf - Paul Denniker)
13. Put That Kiss Back Where You Found It (Carl Sigman – Peter De Rose)
14. And The Angels Sing (Johnny Mercer – Ziggy Elman)
15. You Made Me Love You (Joe McCarthy – James V. Monaco)
16. Embraceable You (Ira Gershwin – George Gershwin)
17. More Than You Know (Billy Rose – Edward Eliscu – Vincent Youmans)
18. Heart & Soul (Frank Loesser - Hoagy Carmichael)
19. Exactly Like You (Dorothy Frields – Jimmy McHugh)
20. Now It Can Be Told (Irving Berlin)
21. These Foolish Things (Eric Maschwitz – Jack Strachey)
22. The Very Thought of You (Ray Noble)
23. I've Got You Under My Skin (Cole Porter)
24. Two Sleepy People (Frank Loesser – Hoagy Carmichael)
25. It Had To Be You (Gus Kahn – Isham Jones)
26. Where Am I (Al Dubin – Harry Warren)
27. Don't Blame Me (Dorothy Frields – Jimmy McHugh)
28. What's The Use of Wond'rin' (Oscar Hammerstein II – Richard Rodgers)
29. Through A Thousand Dreams (Leo Robin – Arthur Schwartz)
30. Surprise Party (Walter Bishop - Bob Hilliard)
CD#2
1. I Let A Song Go Out Of My Heart
(Irving Mills – Henry Nemo – John Redmond – Duke Ellington)
2. Georgia On My Mind (Stuart Gorrell – Hoagy Carmichael)
3. I'll Be Around (Alec Wilder)
4. Stormy Weather (Ted Koehler - Harold Arlen)
5. It's Easy To Remember (Lorenz Hart - Richard Rodgers)
6. Little White Lies (Walter Donaldson)
7. How Come You Do Me Like You Do (Gene Austin – Roy Bergere)
8. Serenade in Blue (Mack Gordon – Harry Warren)
9. I'll Be Seeing You (Irving Kahal – Sammy Fain)
10. Music, Maestro, Please! (Herb Magidson – Allie Wrubel)
11. Lover Come Back To Me (Oscar Hammerstein – Sigmund Romberg)
12. I Got It Bad and That Ain't Good (Paul Francis Webster – Duke Ellington)
13. Some of These Days (Shelton Brooks)
14. Can't We Be Friends? (Paul James – Kay Swift)
15. It's Funny to Everyone But Me (Dave Franklin – Isham Jones)
16. Laughing On The Outside (Ben Raleigh - Bernie Wayne)
17. It's The Talk Of The Town (Marty Symes – Al J. Neiburg – Jerry Livingston)
18. Memories of You (Andy Razaf – Eubie Blake)
19. If I Love Again (J.P. Murray - Ben Oakland)
20. I Ain't Got Nobody (Roger Graham – Spencer Williams)
21. There'll Be Some Changes Made (William Blackstone – W. Benton Overstreet)
22. Changing My Tune (Ira Gershwin – George Gershwin)
23. It's Anybody's Spring (Johnny Burke – James Van Heusen)
24. September Song (Maxwell Anderson – Kurt Weill)
25. There's A Small Hotel (Lorenz Hart - Richard Rodgers)
26. Isn't It Romantic (Lorenz Hart - Richard Rodgers)
27. Dream (Johnny Mercer)
---
"as good as it gets"
Margaret Whiting
Dream: The Lost Recordings
(My Ideal Music, Inc./Sepia Records Limited)
November 2, 2016
Review by Alix Cohen for Cabaret Scenes
When Kathy Brown, V.P. of Debbi Whiting's My Ideal Music and producer of this CD, went spelunking for lost recordings of Debbi's prolific mother, Margaret Whiting, she discovered the vocalist had spent two formative years (at 21 and 22 years old) performing on the syndicated Barry Wood Show. (Young Margaret had embarked on 30 years of popularity in big band, jazz, and popular music.) The radio program, hosted by baritone Wood, featured Hank Sylvern as arranger and conductor of an orchestra that included a full string section and harmonizing trio, The Melody Maids.
Brown tracked materials to the Media Heritage Museum in West Chester, Ohio. Its administrator, Mike Martini, not only disinterred a treasure trove, but allowed transport of the priceless recordings to Los Angeles for digital transfer. 120 potential tracks were chosen by Debbi Whiting and Brown, many never commercially recorded by Margaret. There are 57 brief renditions on this two-CD set.
Because personnel is the same on every track, arrangements are extremely similar. Just let the beautiful vocals wash over you, or better yet, dance. This is a showcase for Margaret Whiting's incomparable instrument, phrasing that represents a songwriter's intentions, and impeccable control. Notes trail off with supple fade, vibrato arrives a distinctive hum; warmth fills the room. This time you'll hear a retard where you hadn't or find yourself singing along, next time there'll be a muted transition that tickles or you'll look down and discover your foot tapping.
There are iconic selections representative of the period: "I'm Getting Sentimental Over You" (Ned Washington/George Bassman)—like sinking into an overstuffed sofa—and an almost pouty "You Made Me Love You (I Didn't Want to Do It)" (Joe McCarthy/James V. Monaco). Swoony interpretations of customarily bouncy numbers: "Taking a Chance on Love" (John Latouche/Ted Fetter/Vernon Duke)—foxtrot with a twirl; "I'm Confessin'" (Al J. Neilburg/Doc Daugherty/Ellis Reynolds)—the word "honest" virtually winks; and "Heart and Soul" (Frank Loesser/Hoagy Carmichael)—as far from plinkety-plink as you can imagine, filled with longing.
Strolls: "Maybe" (Ira Gershwin/George Gershwin), in which Whiting keeps the lyrics…"You will hear – yoo-hoo,/You'll be near – yoo-hoo…" from sounding silly, and "S'posin'" (Andy Razaf/Paul Denniker) sung in brush strokes—firmer at the start, then lighter without leaving the canvas.
Brighter takes: "It's Gotta Be Love" (Lorenz Hart/Richard Rodgers)—grosgrain, not satin, with a modestly jaunty tap, call-response violins, and an arced last note that never comes down; the unfamiliar "Put That Kiss Back Where You Found It" (Carl Sigman/Peter De Rose)—swinging-ponytail-cute; and "Exactly Like You" (Dorothy Fields/Jimmy McHugh) with smiley vocal and skibbling guitar.
Sway numbers: A chiffon "Embraceable You" (Ira Gershwin/George Gershwin) conjuring balletic arms and a fluid dance dip; a womanly "What's the Use of Wond'rin'" (Oscar Hammerstein II/Richard Rodgers)—gentle as a swinging hammock; and the new-to-me "I Let a Song Go Out of My Heart" (Henry Nemo/John Redmond/Duke Ellington/Irving Mills), whose lyrics linger as if anticipating embrace. Even infrequent sassy turns: "Surprise Party" (Johnny Burke/Harold Spina)—delivered with innuendo; a teasing "Little White Lies" (Walter Donaldson); and a version of "I Ain't Got Nobody" (Roger Graham/Spencer Williams) that shows the vocalist in an entirely different light.
Production is pristine: as good as it gets.
---

Joe Marchese for THE SECOND DISC
Margaret Whiting was a singer's singer. Possessed of a clarion vocal instrument capable of both great exultation and deep longing, a performance by Whiting guaranteed a path to the heart of a song. It's no wonder that Johnny Mercer, a songwriter of no small stature, made sure that the 18-year old songbird was one of the first artists signed to his fledgling Capitol Records label. Mercer had known Whiting since her childhood as the daughter of his collaborator, composer Richard Whiting, and nurtured her exceptional vocal talent over the years. Sepia Recordings and My Ideal Music, the company formed by the late singer's daughter Debbi Whiting, have recently celebrated Margaret's legacy on
Dream: The Lost Recordings
, a 2-CD set consisting entirely of previously unreleased music.
The 57 tracks on Dream have been culled from the archives of The Barry Wood Show, a syndicated radio program for which over 100 complete shows still exist on transcription discs. The program was produced by the Frederic Ziv Company of Ohio, which signed Whiting largely based on the strength of her 1945 breakthrough recording of Rodgers and Hammerstein's "It Might as Well Be Spring." (Not that the State Fair movie tune was Whiting's first hit; she had previously scored with such now-standards as "My Ideal," "That Old Black Magic," and "Moonlight in Vermont.") These recordings were all made in 1946 and 1947, and most amazingly, none of the songs presented on this collection were ever commercially recorded by Whiting throughout her long career.
Featuring arrangements by Hank Sylvern utilizing an orchestra with strings, as well as the background vocal trio known as The Melody Maids, these songs range from instantly-identifiable classics to melodies which have fallen through the cracks of time...until now. Though strings are heavily used by Sylvern, the feel here is often an intimate, jazz-based one, with the rhythm section getting ample opportunity to shine throughout. There's no doubt that Whiting's creamy, expressive voice is the star here. Sylvern's accompaniment provides solid support but little in the way of the distinctive voicings associated with, say, a Nelson Riddle, Gordon Jenkins, or Billy May. The first disc begins, after a bit of dialogue between Whiting and host/singer Barry Wood, with a most appropriate choice: Richard Whiting's composition "Honey." Whiting wrote the melody to Johnny Mercer's lyric for "Too Marvelous for Words," and indeed, that Mercer turn of phrase is apt for this collection.
Of course, the songs of Mercer have a place on this set, as well, with such standards as "Skylark" (one wonders how Margaret never recorded "Skylark" at Capitol!), a sweet ballad rendition of "And the Angels Sing," and the title track "Dream" (title of the 1997 Mercer tribute musical in which Margaret starred on Broadway). Indeed, Margaret's velvety pipes were wrapped around melodies by many of the greatest tunesmiths of American popular song. Richard Rodgers is represented by both his saucy, insouciant works with Lorenz Hart and his timeless, sweeping Americana as written with Oscar Hammerstein II. Indeed, Margaret has fun with the dry humor of Rodgers and Hart's "It's Got to Be Love" (from their musical On Your Toes) and brings simple sincerity to their lovely "It's Easy to Remember." Likewise, she offers beautifully resigned heartbreak in the form of Rodgers and Hammerstein's rueful Carousel ballad "What's the Use of Wond'rin'." Hammerstein's collaboration with operetta king Sigmund Romberg gets an airing, too, with a restrained yet aching "Lover, Come Back to Me" (featuring a classically-inspired solo piano interlude).
Margaret's tone is beautiful and light on a graceful version of John LaTouche and Vernon Duke's "Taking a Chance on Love," with not a hint of the swing often applied to the composition. The same goes for Frank Loesser and Hoagy Carmichael's "Heart and Soul," while the same team's "Two Sleepy People" charms with its tender romance.
George and Ira Gershwin have five cuts here, including the great torch song "The Man I Love." Whiting's interpretation has just the right amount of pathos, vulnerability and yearning; indeed, it illustrates her gift for enhancing a song with unadorned emotional honesty rather than vocal pyrotechnics. She brings the same modulated approach to a dramatic yet straightforward reading of Harold Arlen and Ted Koehler's blues-infused "Stormy Weather." Whiting never recorded any of Duke Ellington's songs commercially, but two performances show her to have been an ideal interpreter of the jazz great's catalogue: the lilting "I Let a Song Go Out of My Heart," and a languid "I Got It Bad (And That Ain't Good)."
Not every song is as renowned as that pair of Ellington tunes. Lesser known songs from famous songwriters are among the many treats here, like "Through a Thousand Dreams" by Leo Robin and Arthur Schwartz, Johnny Burke's droll "Surprise Party," or "It's Anybody's Spring" from the team of Burke and Jimmy Van Heusen.
Silky balladry was a Whiting specialty, but there are uptempo songs here, too. The frothy likes of Carl Sigman and Peter de Rose's "Put That Kiss Back Where You Found It" and the simple sentiments of "Exactly Like You" are both delivered exquisitely and directly. She and arranger Sylvern give Cole Porter's oft-covered "I've Got You Under My Skin" a gentle Latin kick. David Young and Charles Warfield's "I Ain't Got Nobody," a 1915 number recorded by everybody from Louis Prima to David Lee Roth, also affords the singer an opportunity to cut a bit loose, as does Billy Higgins and W. Benton Overstreet's forceful declaration that "There'll Be Some Changes Made."
Whiting naturally found the many colors in each of these examples of sophisticated songcraft, whether subtly accenting the wistfulness of "These Foolish Things" or the poignancy of "I'll Be Seeing You." It's all the remarkable considering the young "girl singer" was just in her twenties when these tracks - many of which deal in decidedly adult emotions, of love in its various complexities - were recorded. (She even sings Kurt Weill and Maxwell Anderson's looking-back-at-life "September Song" with conviction!)
It's rather difficult to believe that these songs were cut roughly 70 decades ago, as the restoration by Robert Bader and Kathy Brown is top-notch. Brown's informative liner notes to The Lost Recordings indicate that some 120 songs exist from the broadcasts, so one certainly hopes that a second volume is in the offing. (A minor cavil regarding the otherwise-fine booklet: One wishes discographical annotation would have identified the recording date of each track, if known.) Fans of the Great American Songbook will find this rare treasure chest from the pristine, heartfelt voice of Margaret Whiting to be a Dream, indeed.