Margaret Whiting:
Girl Singer Extraordinaire
By Jerry Osterberg
Cabaret Scenes March 2011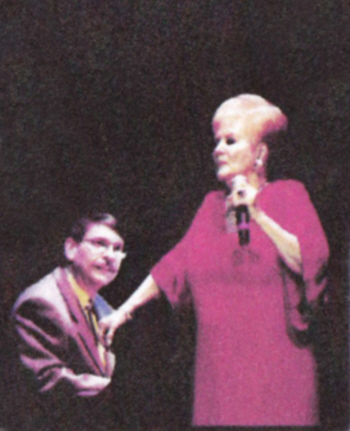 When Margaret Whiting died on January 10, 2011, America lost one of its most iconic popular singers, daughter of songwriter Richard Whiting, and close friend of Johnny Mercer. Margaret was the President of the Johnny Mercer Foundation, chosen by Ginger Mercer, Johnny's widow, to help foster the legacy of the famous American songwriter. Jerry Osterberg, a staff reviewer for Cabaret Scenes, has interviewed many people whose careers Margaret supported and nurtured and tells us how widespread and significant that support of cabaret was.
Margaret Whiting visited songwriter Harry Warren at Paramount in 1980. With him was twenty-two-year-old Michael Feinstein, who'd been apprenticing with both Warren and Ira Gershwin. Margaret suggested that Feinstein call her when he got to New York, handing him a piece of paper with contact information and the words "girl singer." When Feinstein arrived in New York in 1983, Margaret brought him around to the clubs, introducing him to the cabaret community. "Margaret loved the fact that I knew the old standards and classic movies and could speak the language. I wasn't such a great singer back then, but she liked my enthusiasm."
Besides Feinstein, Whiting championed KT Sullivan, who recalls making her first appearance at Danny's Skylight Room in 1987. Donald Schaffer, the longtime booker at Danny's, invited Margaret to hear Sullivan, who remembers, "After that, she came to see me regularly and encouraged me to keep at it. Margaret supported me al the way and made me feel confident." At the time, Margaret who had moved to New York City in 1968, was a major presence in its cabaret life. "She told us when something was good or not," adds Sullivan. "Margaret was always supportive of young performers, agrees Jamie deRoy. Donald Schaffer echoes that sentiment: "I remember hearing Margaret often proclaim, 'Wait till you hear this kid! She's going somewhere!"
Many singers whom Margaret promoted met her at The O'Neill Symposium, of which she was a founder. This ten-day summer workshop for aspiring cabaret performers exposed students to some of the best professionals in the business, such as Carol Hall, Amanda McBroom, Julie Wilson and Tex Arnold. Now called the Cabaret Conference at Yale University, it's directed by cabaret producer Erv Raible. Singer and songwriter Carol Hall recalls a "Teachers' Night" at which she performed a duet with Margaret. "I was thrilled," she says.
Singer and actor Sally Stark was in the class of 2000 and when she returned to New York, Margaret, her husband Jack Wrangler, and Tex Arnold contributed their share of ideas for a cabaret career, something that Stark had always wanted to try. Stark performed a cabaret act at Danny's and recorded a CD. Margaret heard her again and quickly became a fan. And it was not just a question of who was performing in front of her. One night, when Margaret was at the Algonquin Hotel's Oak Room to hear Stacey Kent, she grabbed the arm of Jonathan Schwartz and insisted, "You've got to hear Sally Stark." Stark adds that her relationship with Margaret became more personal than professional. "We were good friends and I often went to visit her."
Another O'Neill graduate, Paul Bernhardt, says that, "Margaret invited me to sing in two shows that Jack put together. We did a duet and a medley of Margaret's hits. She taught me to savor lyrics, give into the emotions and let them happen, not be afraid, to be in love. I loved her sincerity and kindness."
Songwriters Francesca Blumenthal and John Meyer recall hearing Margaret when they were thirteen--Blumenthal on the jukebox and Meyer on the radio. Blumenthal remembers listening to a radio interview with Margaret, who had recently recorded her song "The Lies of Handsome Men." When asked about the song, Margaret responded, "That's one of the best things that's ever happened to me! It fits my voice and the way I feel." Meyer, who clearly recalls hearing "The End of a Love Affair" on the radio says, "Even at that age, the way the story was told made an impression on me. She made lyrics land on me with amazing force." Years after his musical awakening, Meyer began writing his own songs, some of which Margaret performed, such as "Doesn't Matter" and "When Do The Words Come True?" They once did an act together at Ted Hook's Backstage, Meyer & Whiting Sing Whiting & Meyer. "Margaret was a vast help to me as a composer. She was totally generous."
Another especially grateful composer is Larry Kerchner. Laurel Massé, one of the original members of Manhattan Transfer, asked Tex Arnold to pass on demos of Kerchner's music to Margaret and Jack Wrangler. They liked his work well enough to invite him to their apartment on West 58th Street, where they had arranged a "chance" meeting with Michael Feinstein. Margaret was especially fond of Kerchner's "Winter in Manhattan." Happily, Feinstein like the song, too, and subsequently performed it a Feinstein's at Loews Regency during his holiday show.
Of this near-Cinderella experience Larry Kerchner says, "To have Margaret Whiting think my songs were worthy of her attention -- well, it just doesn't get any better than that! Her affirmation meant everything to me. She was a friend to composers, lyricists, arrangers and musicians, and selflessly helped many a singer who sought her sage advice."
Long before Whiting became a member of New York's entertainment community, she was a major recording star. Her influence on cabaret could not have been as significant as it was had she not really become a star. Her father, Richard Whiting, who died when Margaret was only thirteen, wrote some of the most beloved songs of the golden age of popular music, such as "My Ideal" and "Too Marvelous for Words." In a 1987 radio interview with NPR's Terry Gross, Margaret recounted a legendary story of how she inspired "On the Good Ship Lollipop." Ten years old, she arrived home one afternoon licking an all-day sucker, greeting her father with sticky lips and sticky fingers while he fretted over what tune he and his writing partner, Sidney Clare, could pen for Shirley Temple, then a major Hollywood star. After telling his daughter to get her hands and lollipop away from the piano, he suddenly yelled, "That's it--lollipop!"" The song practically wrote itself. Margaret also told Gross that she knew many songs by the age of three, but didn't make her debut until six. The home audience included her father's collaborator and friend Johnny Mercer, one of the many singers and songwriters who frequented the Whiting household. He took a special interest in young Margaret after Richard died. Among Margaret's early tutors were Harold Arlen and Frank Loesser who, like Mercer, instructed her to "sing the songs as we wrote them."
When Mercer formed Capitol Records in 1942, Margaret's first recording was "My Ideal," followed by "That Old Black Magic." "Moonlight in Vermont" sold two million copies in the first year, and "A Tree in the Meadow" was her second million-seller. Her only duet with Mercer was "Baby, It's Cold Outside" in 1949. During her long career she recorded more than five hundred songs. Although Margaret continued to record after she moved to New York, she concentrated more and more on live performances--at Arci's Place, The Ballroom, Michael's Pub, Danny's Skylight Room and other venues. This period included special productions, such as her tribute to Johnny Mercer at the 92nd Street Y in the early 1980s. Whiting assembled an exceptional cast--Julius LaRosa, Marlene VerPlanck, Carol Woods and Tex Arnold. 4 Girls 4 toured for eighteen years and at various times included Rosemary Clooney, Kay Starr, Helen O'Connell, Rose Marie, Martha Raye, Kaye Ballard and Margaret herself. Dream, which played on Broadway, was Margaret's musical love letter to Johnny Mercer.
As for cabaret owners, performers, and musicians, Margaret inspires strong feelings. John Miller of Arci's Place says, "If she liked you she'd do anything for you," a sentiment shared by musical director Don Rebic, who adds, "Margaret had a great sense of humor. She wasn't a joke teller; her wit was natural, genuine. She was just funny! Margaret was a great dame and selfless to a fault."
Performer Carol Woods says that it was "her nature to reach out and pull you in. She was easy to love." Tex Arnold, her accompanist for over twenty-five years, adds, "She was always up, never depressed, and wakes up singing. Margaret had a straightforward approach to life. Margaret was a central part of my professional and personal life for a very long time. She was a kind and generous person who always tried to help singers and writers whose talent she believed in because she knew how difficult the music business could be." Michael Estwanik, who heads The American Songbook Project, which brings seasoned singers to New York City schools in order to educate students about the rich heritage of America's popular music, credits Margaret with being a loyal supporter and willing participant."
Margaret Whiting has said much of value for those striving to become part of the community known as cabaret. "The most important thing for a singer, or an actress--which is what a singer should be--is to know who you are, to not be afraid to stand naked in front of an audience. Nothing beats the moment when you step forward for bows and the roar of the audience is like a tangible thing, a force. It surrounds you, envelops you, carries you with it. It is a totally personal kind of communication."
Margaret Whiting didn't like being called "cabaret royalty." As John Hoglund of Cabaret Scenes recalls, "She once told me, 'Queen Elizabeth is royalty. I'm just a girl singer.' That is how Margaret would want to be remembered."